Location, area and activities
The cottage is situated in Low Tatras National Park roughly 40 km away from Banska Bystrica city in the direction to Brezno at an altitude of 760m.
The location and surrounding environment of Krpacovo provides many opportunities for our guests.

In Summer season it is possible to use lake in Krpacovo for water sports (swimming, boating, fishing). Thanks to the beautiful mountains there are many opportunities for tourism, hiking, biking, or just relaxing during mushrooms gathering. A golf course is nearby, as well as rope park (Tarzania), tennis courts, climbing wall.
In winter time You can visit 3 different ski resorts (Tale, Chopok, Myto pod Dumbierom) and ice skating rink.

List of more interesting places (for exapmle the Bystrianska cave) and attractions is listed below and sorted according to the distance.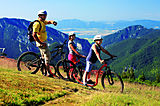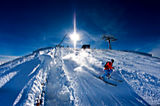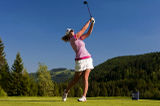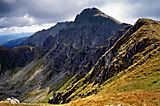 Krpacovo (1 km)
Hotel Junior (pool, sauna), Snowcats rentals, Horsesleds, Sauna - hotel Biotika, Tennis, Ski lift, lake (Beach volleyball)
Tale (5 km)
Pool - hotels Partizan and Stupka, golf course, Bowling, Horses and ponies, Ski Center (Ski rentals and skiservis), tennis courts, lake (fishing)
Bystra (7 km)
Bystrianska cave, Fitness center, Bowling, Horses, Church, Swimming pool, Minigolf, Tennis, Skilifts
Podbrezova (7 km)
Bowling, Open swimming pools, Tennis
Chopok south - Srdiecko (13 km)
Skiing
Myto pod Dumbierom (15 km)
Horses, Swimming pool - hotel Myto, Ski center, Tennis - hotel Myto
Cierny Balog (29 km)
Dobrocsky primaeval forest, Forester`s open-air folk museum, Medvedovo (Kram, Urbano`s hill - skiing), Ciernohronska railway (+ Museum)
Cottage location
Country:
Slovakia
County:
Banska Bystrica
District:
Brezno
Address:
Krpáčovo 770
Horná Lehota
976 81
Region:
Horehronie
Sierra:
Low Tatras
Altitude:
760 m a.s.l.
GPS:
48°52'12.818"N
19°34'6.348"E
Map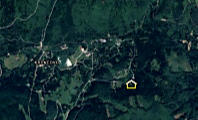 Enlarge map and explore area on the map. Yellow house shows real location of the cottage.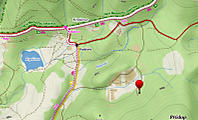 You can also view tourist map and plan your trip.
Satellite and tourist maps can be found on our website.
Contact
Phone: +421 915 811 021
Email: info@chata-krpacovo.sk
QR contact information: show

Have a question?
Use this simple form to send it to us just now.